Dr. David Dewulf
Email: info@daviddewulf.be
Dr David Dewulf is a medical doctor and author of 15 books on Mindfulness with over 100,000 copies sold in Belgium & The Netherlands. Some of his books have been translated into French and German. Thousands of people have joined his courses and professional trainings. He collaborated with several universities for scientific research.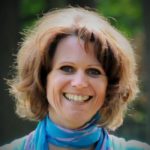 Inge Thijs
Email:
inge@miracles.be
After obtaining her Master's in Organisational Psychology at the K.U.Leuven in 1991, Inge Thijs built up her business experience in the marketing research unit of an American multinational and as a personnel consultant for a major Belgian bank. She has since obtained a Bachelor degree in Business Studies. In addition, she has broadened her knowledge over the years by following various business training courses on communication skills, group dynamics, change management, coaching, leadership, personal effectiveness and time management, selection and development centre techniques.
International guest speakers
Trish Bartley
Trish Bartley has worked with groups for over 35 years. She is a mindfulness teacher and trainer at the Centre for Mindfulness, Research and Practice at Bangor University and teaches on the masters and CPPD programme. She has taught MBCT to patients in a regional oncology unit for 12 years and wrote Mindfulness-Based Cognitive Therapy for Cancer (Bartley, 2012). She has a background in development and when she can, returns to South Africa to teach mindfulness to people in rural communities affected by HIV & Aids.
Christina Feldman
Christina Feldman is a co-founder of Gaia House in Devon and a guiding teacher of the Insight Meditation Society in Barre, Massachusetts. She has been leading insight meditation retreats since 1976 and is the author of a number of books including Woman Awake, Silence, The Way of Meditation and Compassion.
Melanie Fennell
Melanie Fennell was a pioneer of cognitive therapy in the UK, and is a founder member of the Oxford Cognitive Therapy Centre, where she developed and directed the Oxford Diploma in Cognitive Therapy and the Oxford Diploma/MSc in Advanced Cognitive Therapy Studies. As a clinician, her particular interests are depression and low self-esteem, and she has written widely on both for clinicians and for the general public. In July 2002, at their 30th Anniversary Conference, was voted "Most Influential Female UK Cognitive Therapist" by the membership of the British Association of Behavioural and Cognitive Psychotherapies. Since 2003, Dr Fennell has worked with Professor Mark Williams in the Oxford University Department of Psychiatry, developing Mindfulness-Based Cognitive Therapy (MBCT) for people suffering recurrent depression and suicidality. She is Co-Director of the Oxford MSt in MBCT (with Professor Williams), and has led experiential 8-week courses for patients and healthcare staff, as well as MBCT training events and residential teacher development retreats.
Willem Kuyken
Willem Kuyken is Professor of Clinical Psychology at the University of Oxford, and Director of the Oxford Mindfulness Centre. He is a research clinical psychologist, with a BSc in Psychology from University College London, PhD from the Institute of Psychiatry, Kings College London, and Doctorate in Clinical Psychology from the Salomon's Clinical Psychology Training Programme. He worked for two years as a Postdoctoral Fellow at the Center for Cognitive Therapy, University of Pennsylvania / Beck Institute with Aaron T. Beck. From 1999 to 2014 he worked at the University of Exeter, where he held a number of roles including heading up the doctoral clinical psychology training programme (2001-2004) and leading the clinical research group (2001–2010). In that period he co-founded the Mood Disorders Centre, directing it through its formative years (2004-2012) and co-founded the Masters in Mindfulness-based Cognitive Therapies (2008).
Professor Kuyken's work is focussed on mood disorders and evidence-based approaches to mood disorders. His research and teaching focus primarily on mindfulness-based approaches, compassion and individualizing evidence-based therapies through collaborative case conceptualization. He was awarded the May Davidson award for clinical psychologists who "have made an outstanding contribution to the development of clinical psychology within the first 10 years of their work as a qualified clinical psychologist." He is a "grand-fathered" Fellow of the Academy of Cognitive Therapy. Professor Kuyken's research has been supported by the National Institute for Health Research, Wellcome Trust, Economic and Social Research Council, NHS and Medical Research Council.
John Peacock
John Peacock lectures on the Master of Studies course in MBCT at Oxford University. He teaches at Gaia House and is a member of the Gaia House Teachers Council. John has been teaching meditation since 1980 and has authored The Tibetan Way of Life, Death and Rebirth as a Complete Introduction to Buddhist psychology for MBCT practioners.
Christina Surawy
Dr Christina Surawy is a clinical psychologist and an accredited CBT therapist. She is currently Co-Director of the Masters of Studies in MBCT and involved extensively in both teaching and training MBCT at the OMC and internationally.
Dr Surawy was the lead therapist on a research trial exploring the benefits of MBCT for Health Anxiety and is involved in developing, teaching and training MBCT for people with long-term health conditions with the NHS. She has worked with people suffering from Chronic Fatigue Syndrome (CFS), Cystic fibrosis and Medically Unexplained Symptoms and currently works with long term physical conditions at the Oxford Mindfulness Centre.